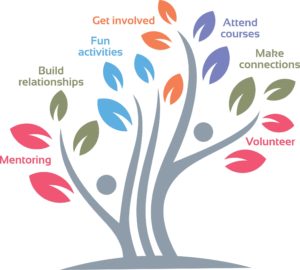 What is The Essex Family Support Service?
The Essex Family Support Service (EFSS) launched in 2020, is led by Community360 whilst working in partnership and collaboration with other voluntary and community sector organisations across Essex to deliver this service as part of the wider Essex Child and Family Wellbeing Service. The service was able to support 788 people in the first year.
This service provides support to families which include school-aged children and young people aged 8-19 years. This will include families who are not already receiving support from specialist and statutory services such as Emotional Wellbeing Mental Health Service (EWMHS), Social Care and Family Solutions. (For families with children under 8 years, support will be provided by other voluntary organisations).
The aim of this service is to support families to work towards the following outcomes:
Emotionally healthy, happy and resilient – supporting families to develop and retain positive relationships
Behaviour choices that promote safety and wellbeing – including reduction in participation of risky behaviours
Socially connected, resilient and resourceful families – supporting people to connect with peers and communities
Healthy inter-parental/guardian and family relationships – effective communication and conflict resolution
What can we help with?
We pride ourselves on giving families the best support we can and signpost to the most up to date and relevant services. Some examples of the things we can help with are:
Build positive family relationships
Signposting to relevant services
Up to 10 weeks family mentoring support
Completing referrals for families
Attend TAF meetings (Team Around the Family)
General advice and guidance
Find courses and training for parents
Can link families up with special educational needs and disability (SEND) specific organisations for extra support
Information for professionals
Access to the service will be via a single point of access. For those wishing to make a referral on behalf of a family please contact us for a referral form and a unique password by emailing families@community360.org.uk
Your organisation will be set up with a direct referral pathway which can be used to refer any families that you feel need our support in future.
We very much look forward to working with you to support families across Essex. Please don't hesitate to send your referrals over and reach out if you have any queries regarding the above or our service.
EFSS have a monthly newsletter filled with lots of useful information and key updates if you would like to subscribe this, please let us know by emailing families@community360.org.uk
Information for families
Families are able to self-refer for support by contacting us on: 01206 505 250, by emailing us at families@community360.org.uk or using the form below (Please note this form is just for self-referrals, Practitioners should contact the team first for a referral form and unique password).
A member of the team will be more than happy to assist with any queries you may have and they can also complete a referral form over the phone with you.
Case Study 1
To date the Essex Family Support Service have supported over 1,100 people from across Essex and we have had many with positive outcomes, please see below:
Background:
A referral was received for a family that wanted support with a child that was struggling with their emotions and using anger and violence a lot.  The parents lacked understanding around SEND.  The family wanted help to identify school holiday activities for their child.  The family struggled to buy food and school uniform.
Actions taken:
C360 mentor referred the child to the Children's Society, difference noticed instantly.
C360 mentor sent parents to SNAP workshop for support on SEND.
C360 mentor signed the child up to local football sessions over the holidays and they really enjoyed them.
C360 mentor delivered them food vouchers that were greatly received and ensured they would eat.
Outcomes:
Mum and Son are now communicating better and starting to understand the emotions that the son goes through and how to handle them better. Son is now involved in after school and school holiday activities that keep him busy and allow him to sleep well at night. This also gives mum some space to get things done that previously were left and added to stress. Mum now feels better equipped on where to find support around SEND and anger, with a more positive outlook on the future.
Family Feedback:
"Without your support we would never have known where to look and what we needed. Just to have someone there each week without fail and pointing me in the right direction has meant we are now getting the support that we/my son needs." – Feedback gained from Mum at the end of support with the C360 mentor.
Case Study 2
Case Study 3
Let's hear what families have to say
'It was so nice having someone at the end of the phone who cared and was on our side, our mentor did so much more than other organisations have done before and we are really grateful for the support.'
'The support has helped me to feel more confident, I feel like there is more structure in my life and things are more manageable. My anxiety has got better with the counselling and having someone to talk to every week has made me feel less alone'
'Talking to you every week has been more helpful than my private counselling'
'The support has been invaluable, It has helped me get linked up with organisations I didn't even know existed and when I didn't have time to complete referrals myself it was so nice having someone there who was willing to do it for me. This has been the most consistent support I have had'
"I would give your service a 10 out of 10. The way you spoke to us, your manner, and the way you dealt with the situation when I called about my son's incident and the support you gave afterwards was outstanding, so good. You've always gone above and beyond and always got back to me etc. You've never once let me down Jane."
"10/10. You are lovely and amazing. It was lovely to have someone who was encouraging and calm to speak to. It's not what you say it's how you say it. It has helped remind me what I know and I now want to help other people by passing on what I have learnt."
"I look forward to your call every week, it helps me to keep going"
"Thank you for not giving up"
We are working with?
Essex Child and Family Wellbeing Service (ECFWS) and Community360 are working together to bring low level and early help support for families who have children and young people aged 8-19 years across Essex (Excluding Southend-on-Sea and Thurrock).
As a service we work alongside lots of different organisations to aid us in reaching as many families as we can that may need extra support, we have great working partnerships with local schools, charities, other family support services and many more!
Building on that Bond Workshops
Do you have a child aged between 8-19 years old and feel you need to improve on your relationship with them? Join other parents who may be in a similar situation to you, swap advice, gain tips and meet new people. We will cover topics around communication, relationships, behaviour, body language and much more.
The workshops are run by Essex Family Support Service and supported by parents across Essex this is a good chance to come together and help others as well as yourself. Sessions are held virtually via Microsoft Teams or face to face in various locations across Essex.
To book on or find out more information please contact georgiacleaver@community360.org.uk or call the office on 01206 505 250.
The EFSS team have various community projects happening alongside our service throughout the year. To keep up to date with these and other useful information, please follow the Community360 socials @community360org.
The_essex_family-support_service.pdf (1298 downloads)
Newsletters
EFSS – February newsletter 2022
EFSS – January newsletter 2022
EFSS – December newsletter 2021
EFSS – November newsletter 2021
EFSS – October newsletter 2021
EFSS – September newsletter 2021
EFSS- February Newsletter 2021
EFSS – January Newsletter 2021
EFSS – December newsletter 2020
EFSS- November newsletter 2020
EFSS – October newsletter 2020
EFSS – September newsletter 2020