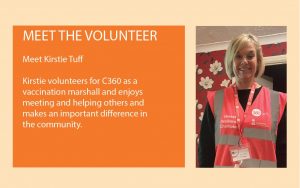 My name is Kirstie Tuff I started volunteering in February 2021. As I wasn't working I started to think what I could do to keep me busy, so I googled volunteering and I found that volunteers were needed for the vaccination sites. After I applied I only had to wait a few weeks to get the call to start volunteering I was very happy to being given the opportunity to help.
From February until May I was at the Primary Care Centre in Colchester and also some of the surgeries in Colchester  and from the first day I have enjoyed all the different jobs I was given from temperature checks, outside marshalling, room assignments and generally helping in any way I can.
All the staff at Community360 have been helpful and friendly and made me feel very welcome the same goes to all the other volunteers I have met so many lovely people.
I am a very sociable person so I enjoy meeting and helping others it's a great way to make a difference in the community. I am looking forward to continuing with other volunteering roles.
If you are interesting in volunteering and would like to get involved please call us on 01206 505250 or click here to read more : https://www.community360.org.uk/services/volunteering/volunteer-with-c360/