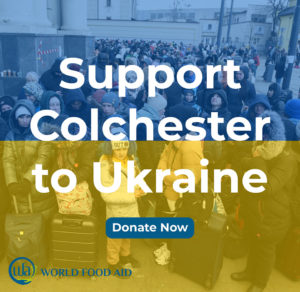 World Food Aid is helping coordinate a major appeal to deliver much need humanitarian aid directly from the community of Colchester to refugees in urgent need in Ukraine and neighbouring countries.
The 100% not for-profit, local initiative is being managed by World Food Aid and Lion Walk Shopping Centre and is being spearheaded by Colchester Councillor Martin Leatherdale, Colchester Mayor Robert Davidson, and the Dulai family, owners of Surya Foods and Colchester's George Hotel.
It sees a host of Colchester organisations join forces, with significant backing from the wider local community, notably yours – Community 360; Colchester Food Bank, Anti Loo Roll Brigade, Colchester Community Facebook Group and many others. The scheme is also being bolstered by the Colchester Rotary Club, Colchester Council and Colchester Business Improvement District – Our Colchester.
Read more here :  https://www.facebook.com/100884524713312/posts/581813449953748/