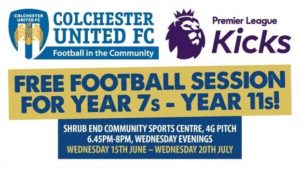 Colchester United are running a new Premier League Kicks free football session for Year 7 to Year 11 students in the local area, with an emphasis on Year 9, 10 & 11.
These session run until the end of the school term, to provide the young people with a safe facility to play football with their mates, whilst being trained by FA Level 2 coaches.
SHRUB END COMMUNITY SPORTS CENTRE, 4G PITCH
6.45PM-8PM, WEDNESDAY EVENINGS
WEDNESDAY 15TH JUNE – WEDNESDAY 20TH JULY
WHO? Anyone from Year 7 – Year 11
WHAT? Free football training.
WHERE? Shrub End Community Sports Centre (CO2 9BG), 4G pitch.
WHEN? 6.45pm-8.00pm. Every Wednesday from the 15th June – 20th July.
WHY? Being a part of Premier League Kicks allows individuals to access exclusive opportunities for young people. For example, getting the chance to represent Colchester United at national and regional tournaments. As well as chances for young people to gain their first experiences in coaching.
Sign-up online at https://colchester-united-fitc.class4kids.co.uk/info/159
Click here to read more : Premier League Kicks Jun22 A5