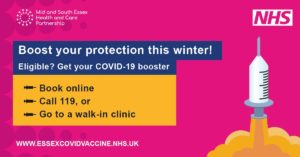 The best way to protect yourself from becoming seriously ill with Covid-19 is by booking your booster vaccine. Every adult in the UK is now eligible for a booster vaccine, so please don't delay and get boosted now.
For your nearest walk-in vaccination clinic, please check here. You may prefer to book an appointment in advance using the NHS website.
Changes to self-isolation
The self-isolation requirements for people who test positive for Covid-19 in England changes from Monday 17th January 2022.
People will be able to leave self-isolation after 5 full days if they test negative on days 5 and 6, and do not have a temperature.
Those who have tested positive on their lateral flow tests must stay in isolation until they have had two consecutive negative tests taken on separate days. Check here for more detail.