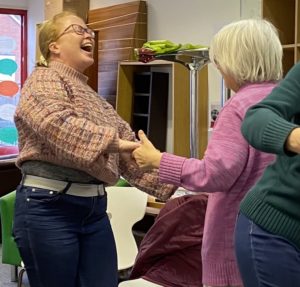 Photo shows: The Dance Network Association
The Colchester Dementia Action Alliance (DAA) is looking to raise awareness about potential prevention strategies of the illness.
Dementia Awareness Week runs from 16 – 22 May. On Monday 16th May an event is being hosted by Community360 at the One Colchester Hub titled 'Better Brain Health.' The aim of the event is to raise awareness amongst members of the public about the 12 potentially modifiable factors that are associated with developing dementia. which come from The Lancet Commission report 2020 on dementia prevention, intervention and care.
According to Essex County Council nearly 20,000 people are estimated to be living with dementia in Essex and this number is likely to increase to around 25,000 in the next ten years.
Helen Clegg Engagement Officer at Community360 said: "The report produced by the lancet highlights the need to share and engage with the public about the 12 modifiable risk factors associated with developing dementia. It is estimated that 40 percent of dementia cases are potentially preventable."
She added: "Factors such as hypertension, obesity, type 2 diabetes, lack of exercise and even hearing impairments can be contributing factors. The emphasis on prevention needs to be heard because currently no effective treatments to either cure or prevent dementia have been found. There have been no pharmaceutical breakthroughs in the last 18 years. Pharmaceutical drugs available for dementia only help to temporarily reduce symptoms and slow progression of this non-communicable neurodegenerative disease.
This event will enable us to share potential prevention strategies. We are learning that tactics to avoid dementia begin early and continue throughout life, so it's never too early or too late to take action and thereby perhaps lessen some of the fear associated with the condition."
Community360, Provide, The Dance Network Association, U3A, The Mercury Theatre and the RNID are all members of the Colchester DAA and can offer activities to counteract some of the modifiable risk factors and will be on hand to talk to members of the public at the event.
The RNID will offer advice on hearing impairment and practical steps someone can take to get their hearing tested and get hearing aids; The Mercury Theatre which offers singing, acting, and social groups for people of all ages, provides opportunities for physical exercise/movement/socialisation and cognitive stimulation; it also hosts the local Farmers' Market the first Friday of each month as healthy eating also plays a protective role when it comes to brain health.
The Dance Network Association offers classes for different groups, which are a means of tackling social isolation, as does U3A, while at the same time providing opportunities for physical activity and learning. Physical activity can help lower blood sugar levels and improve insulin sensitivity. Physical exercise can also help with hypertension and obesity.
Lyann Kennedy from the Dance Network Association said: "Dancing with Dementia is a great way to help combat the effects of social isolation and physical inactivity, two of the 12 modifiable risk factors.  Classes offer participants the chance to experience creative movement and dance with their companions, stimulating the brain through movement, repetition, use of props and musical timelines"
She added: "A 21-year study of people 75 and older found that dancing can reduce the onset of dementia and is 76% more effective that many other activities. The benefits are also gained by carer/companion who can improve their own well-being from time spent moving to music, laughing, talking to others and sharing experiences with one another.
We are delighted to be supporting this event and look forward to meeting anyone interested in getting involved with our classes."
The One Colchester Hub, led by Community360 also hosts many different craft groups and clubs, which welcome new members. Helen said: "Joining a club or group helps tackle isolation, and at the same time someone can learn something new, which keeps the brain stimulated."
The event takes place at the One Colchester Hub, Long Wyre Street Colchester on Monday 16th May from 10am – 2pm. A Dementia Tea Dance is also being held at Orchard Baptist Church Hall, Mersea Road on Tuesday 17 May from11am-2pm. For further information and tickets email: information@community360.org.uk
Or call: 01206505250. Colchester United Football Club is also hosting the first in a series of dementia-friendly walking football sessions on Wednesday 18th May at Shrub End Sports Centre from 12 noon to 2pm. For further information email edward.king@colchesterunited.net or call 01206 755160.
The Braintree Office will also be holding a Dementia Awareness event on 18th May at George Yard bandstand in Braintree from 10am – 3pm. They will also be engaging with members of the public to share with them practical steps that they can take to reduce/mitigate these risk factors and reduce their chances of developing dementia.