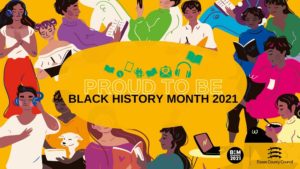 Black History Month began on 1 October. This is a time for celebration of Black and Brown people and culture, as well as a time to learn about Black History. This year the focus for the month is Proud to Be. Essex Library Services have been inspired by that theme and are showing what we are Proud to Be Reading. Let them know on Twitter and Facebook what you are #ProudToBeReading.
In full celebration spirit Essex Library Service have lots of events you can fill your calendar up with!
Essex Library Services and the BAME Network are teaming up to talk with storyteller Alim Kamara. This online event is on 27 October at 12noon-1pm. Alim created Storie Storie to share folklore and run workshops. A recording of Alim telling the story of Anansi and Madam Fire will go with this talk. Tickets for this online event are free of charge.
Your local library will have a Black History Month display. Here you can find books by Black and Brown authors and stories about Black and Brown lives. Some of these books available are on our Black History Month booklist.
If you are local to Chelmsford Library, you can also find a display from the African and Caribbean Writers and Books Group (ACWBG). They meet every first Saturday of the month between 3pm-4pm at Chelmsford Library. The next book they will discuss is The Shadow King by Maaza Mengiste on Saturday 4 December. If you'd like to join the group or find out more, email acwbg.essex@gmail.com and following @EssexLit on Twitter.
Essex Library Services has a fantastic collection of e-books and e-audio available on BorrowBox. Here you will also find our Book of the Month, Why I'm No Longer Talking to White People About Race by Reni Eddo-Lodge.
On 21 October at 12noon-1pm the BAME Network are hosting In Conversation with artist, EVEWRIGHT. EVEWRIGHT is an award-winning creative director and artist. His exhibition, the Tilbury Bridge Walkway of Memories, is available to visit now. The walkway is an art and sound installation dedicated to the Windrush generation. The talk will include a presentation of his work. Tickets for this online event are free of charge.
Wrapping up the month on 29 October at 12noon-1pm is a talk by Black History Walks. They will be discussing the topic 'What did Black people do in World War One?'. This online event is also organised by the BAME Network and free of charge.